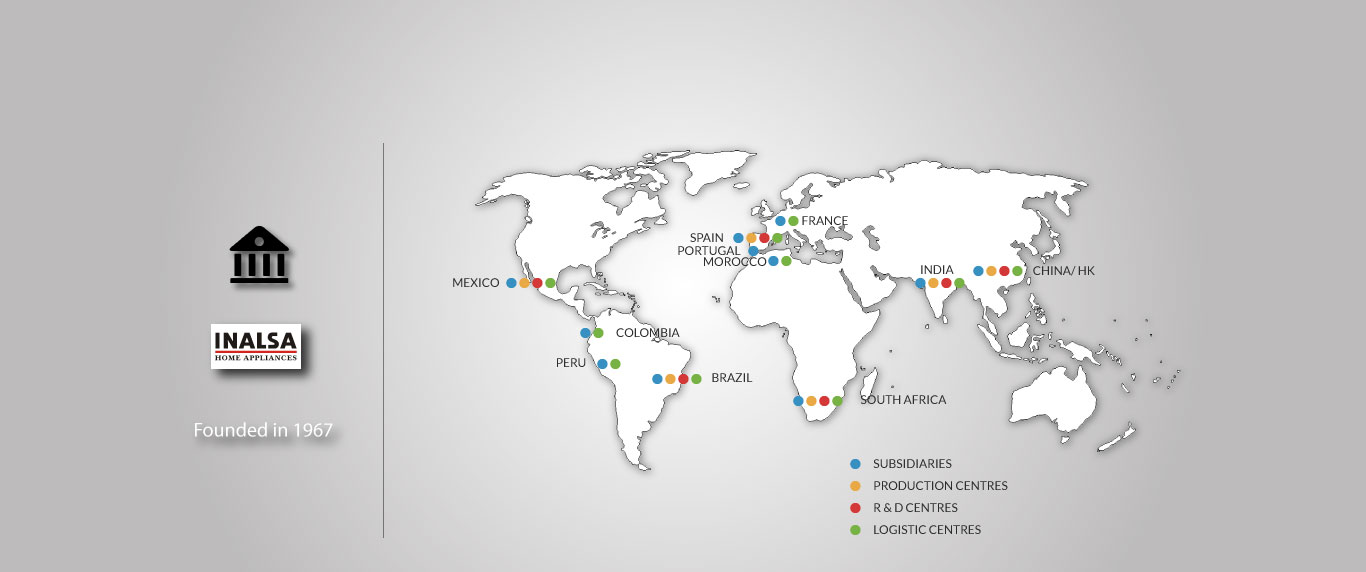 OUR MISSION, VISION & VALUES
Inalsa will unleash full potential of its employees, make a difference by adopting proper systems and processes and become a leading Appliance Company in Consumer Satisfaction while maintaining commercial viability for its shareholders.
Founded in 1967, INALSA has always been the first choice of Indian consumers for small home appliances, it is one of the fastest growing appliance companies, INALSA is a subsidiary of Taurus Group, headquartered in Spain, which is one of the most popular brands in Europe with its innovative product range of appliances since 1962.
INALSA has been making every effort to offer high quality products and professional services to its customers. At INALSA, as products comply with stringent GS, CE, RoHS, ISI test standards and are manufactured under ISO quality systems at different production centers, the strict quality testing norms makes us accomplish the best in class material and product designs. Quality and innovation has always been the hallmark of INALSA ever since its inception.
INALSA is the pioneer in food processors and launched it in India around thirty years ago and still enjoys the leadership position in this category. Currently, its range expanded to over 30 product categories with more than 200 SKUs.

TAURUS Group always believes to work in alliance with strong local brands and is present worldwide with a local approach for each country. It's portfolio of brands include Taurus, Inalsa, Mallory, Mellerware, White & Brown, Winsor, Casals, Minimoka, Solac, Mycook, Coffeemotion, Lucky, Practika and Alpatec. This allows Taurus to develop specific range of products for each country, from small home appliances & electronics to power tools. Taurus Group's operational activity is already spread across 100 countries and is managed by a team of 3000 committed, motivated and dynamic young people coming from diverse backgrounds like Product Design, Technical, Quality Assurance, Sales & Marketing and supported by work force deployed in manufacturing facilities located in Spain, India, Brazil, South Africa, China and Mexico.
With the synergies of Taurus Group, INALSA has expanded its distribution network with more than 250 distributors and 10,000 retailers all across India. INALSA has been a preferred brand with modern retailers/important large format stores. A large range of INALSA product is also available at CSD Canteens. Above all, E-Commerce websites and teleshopping channels are also promoting INALSA products extensively.
Also available at: